Mechanically Engraved Anilox Rolls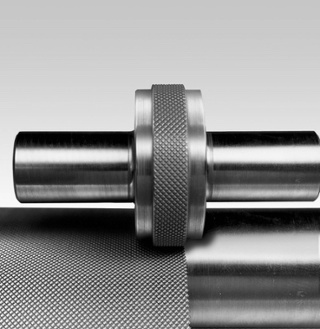 Features
Advanced metallurgy:
We avoid engraving in accident prone copper compositions. If a diameter needs a build up, Steel/ Hardened Stainless Steel is used, which increases the impact resistance. After the engraving the roll may receive a nickel plating and/or galvanic hardened chrome plating.
High precision:
Tightest T.I.R. & O.D. and an even screening over the entire engraved surface for a constant screen, volume, depth, angle, and optimal wall-to-opening ratio.
Precision Engraving:
High precision mechanical engraving tools are used to manufacture our rolls.
Upon request, custom made mechanical engraving tools can be manufactured.
Advanced engravings:
Standard & custom engraving patterns including finer line screens (from 6 l/cm to maximum 140 l/cm). The patterns manufactured are: 45°, 60° Hex, Trihelical, Channellox, Positive Reverse or other special engravings upon request.
Special tools enable Apex to engrave directly into steel or even stainless steel
Different cell specifications and patterns available
From 6 l/cm up to 140 l/cm
Standard 30°45°and 60° as well as custom engraving options;
Quadrangular, Pyramid, Hexagonal, Tri-Helical,
Channellox or specials on request.
AST metal fusion process for original diameter
Build up with steel
Increased durability due to Anti-Corrosion Layer