Apex Anilox Sleeve Technology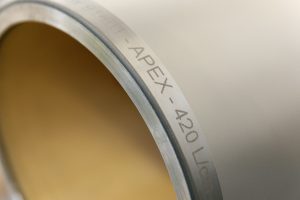 True to Apex reputation for uncompromising quality, our new Anilox Sleeve Technology has been engineered to be the world's very best anilox sleeve.  With its ultra-smooth interior wall and ultra-sturdy construction, this is the upgrade you have been looking for: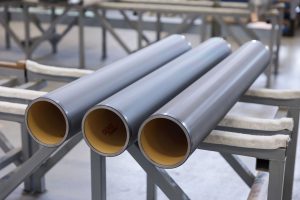 Ultra-smooth, super composite interior wall is easier to clean, fully resistant to swelling and is less likely to fray, making loading and unloading from the mandrel much easier while drastically reducing the chances of it getting stuck.
Sealed super composite sleeve is easier to clean due to the smooth surface, making removal of even dry ink quick and easy.
Internal compressible and damping layer is constructed of industrial strength memory cushioning
Superior reinforced composite construction makes it more reworkable than the competition's conventional anilox sleeves
Apex Sleeves feature corrosion proof, mechanically anchored and fastened stainless steel end caps that are an integral part of the sleeve construction without use of adhesive to prevent the end caps from dislodging.
Apex Sleeves is completely liquid resistant and will not delaminate as a result of liquid penetrating the sealed construction, which is one of the main reasons an anilox sleeve can fail prematurely.
Apex industry leading 0.015mm (0.0005") max TIR and OD is designed for speeds up to 600 meters (2000 ft) per minute with no bounce.
Because Apex controls the manufacturing process, there is no middle man to add cost, inventory is readily available, and our stock program supports 10 of the world's premier OEMs.