The Secret to Unparalleled Transfer Consistency
The GTT 2.0 engraving technology is the best anilox roll product available today
for achieving the consistent transfer needed in HD flexo quality and fixed palette printing applications.
With dedication to continuous improvement and an innovative R&D philosophy, Apex has fine-tuned and perfected GTT anilox rolls to meet the needs of printers today. This innovative patented open slalom cell geometry is designed to mitigate liquid turbulence and optimize transfer.
The new, improved engraving ensures up to 50% reduction in cell wall surface area across the anilox, while decreasing the required channel depth by an average of 25%.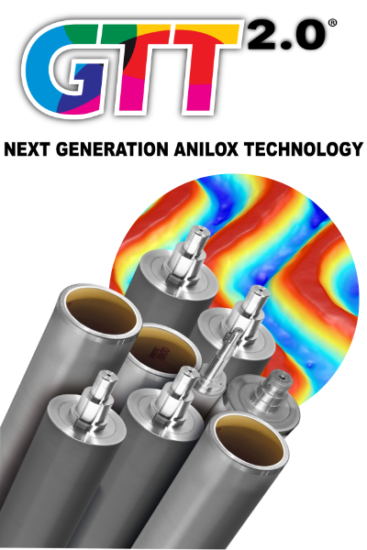 Productivity Like You've Always Imagined
Imagine using just one anilox for finer screens AND stronger solids.
Imagine less mottling, foaming, pinholing, plugging and dot gain.
Imagine using less ink, yet achieving higher opacity and quality.
Imagine faster drying time.
Bottom line? Print Better, Faster, Stronger and Save Money with GTT Anilox Rolls & Sleeves.
Request a Consultation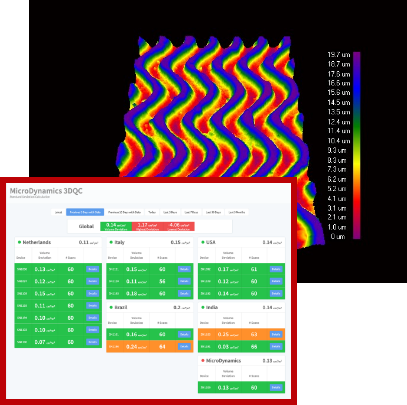 What is the GTT Anilox Roll Difference?
The innovation of GTT 2.0 is in the patented open slalom channel geometry. Compared to the standard 6-wall HEX engraving, GTT 2.0 minimizes liquid turbulence and optimizes ink transfer and cleaning.
Standard HEX 6-Wall Geometry
Standard hex geometries have been a tried and tested anilox roll solution used in the flexographic print industry for decades. The geometry has 6 walls and is proven to be the best closed cell engraving but it hinders fluidity and requires increased maintenance and upkeep. Historically, this cell shape was good for ink transfer and cell cleaning, but as laser technology improved the cells became deeper with smaller openings, decreasing roll life and increasing cleaning and maintenance demands.
Industry volume tolerances are high and can create transfer inconsistencies
Higher volumes and finer screens can cause high maintenance
Higher ink usage to fill each individual cell
Manufactured by single or multi-hit pulsed laser
Specified by line screen and BCM
Introduces air into chamber systems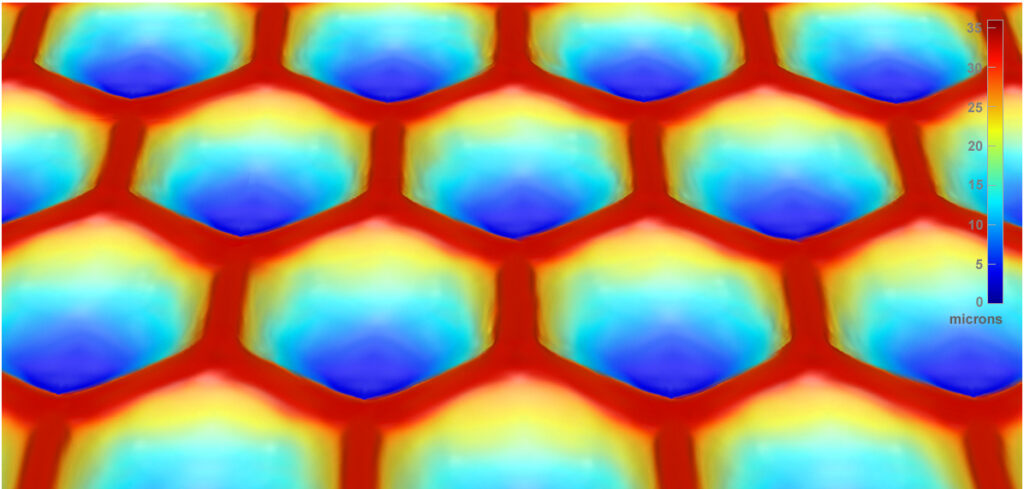 GTT Open Slalom Channel Geometry
The innovative open channel-pattern of the GTT 2.0 technology releases an exact volume of ink or coating to flow calmly and precisely from the anilox rolls to the printing plate or substrate allowing you to print finer screens and solids on the same ink station. The open channel benefits from a 50% reduction in the wall surface area resulting in easier cleaning and lower maintenance anilox combined with the advantage of an extended anilox roll life.
Independently proven to have the best volume consistency in the industry
25% decrease in channel depth means easier/less cleaning
Ink flows through channel for increased savings
Manufactured by 1 constant laser beam for smooth, precise walls
Optimized depth to opening ratio for best transfer characteristics
Eliminates aeration and micro bubbles forming in the ink or coating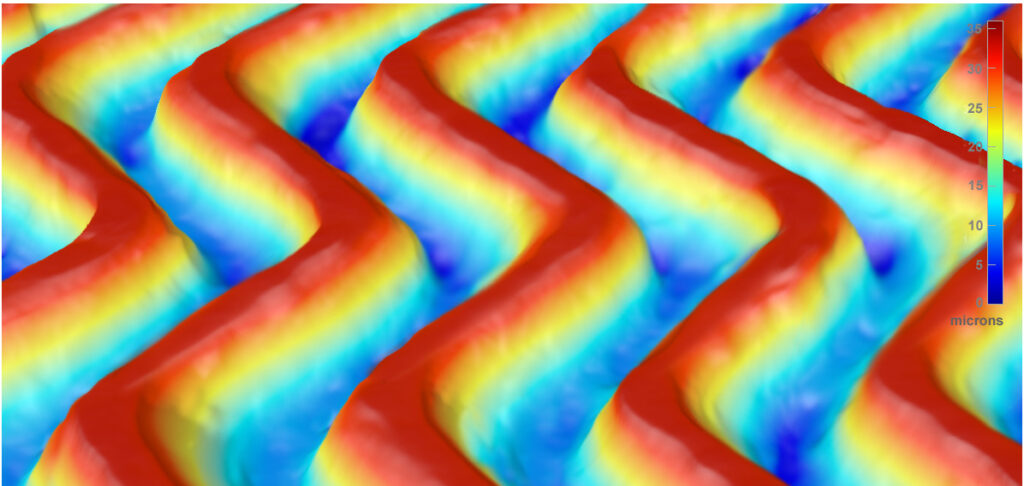 GTT 2.0 SPECIFICATIONS
MATERIAL
Unique high-density ceramic coating with the lowest porosity in the industry today
WIDTHS
Up to 8 meters / 315 inches
DIAMETER
Up to 865 millimeters / 34 inches
LASER ENGRAVING
Constant beam laser engraving for smooth, hard and precise channel walls
APPLICATIONS
Corrugated
Flexo & Wide Web
Label & Narrow Web
Coating & Offset
ENGRAVING SIZE
GTT 2.0 is not specified by line screen and bcm.
GTT engraving selection are designed to suit your specific needs based in ink strength, substrate, press and process parameters.  The perfectly designed optimum depth to opening ratio on all GTT engravings will ensure the anilox life is longer and the cleaning costs and requirements are reduced .
Anilox Rolls & Sleeves historically were available in the following sizes:
Extra Small (high definition process work)
Small
Medium
Large
Extra Large (opaque white flood coats)
BCM
The GTT Engraving pattern is available in volumes from 2.94 cm3/m2 (1.9 bcm) to 24.8 cm3/m2 (16 bcm).
There are currently 25 GTT options, with each option offering an increased volume of either 0.5 cm3/m2 (0.32 bcm) or 1 cm3/m2 (0.64 bcm).  The new volumes ensure Apex can provide the perfect GTT engraving for a wide variety of applications and print variables.
Introducing the First Accurate and Repeatable Volume Measurement System.
Endorsed by Apex.
Apex and Microdynamics have partnered to create the only complete 3-in-1 measurement system in the world. Apex's state-of-the-art software and calibration plates pair with the MicroDynamics Veritas© to provide you with the most comprehensive laser inspection process the industry has to offer.
Get a Quote
GTT is a proven solution to address various challenges and achieve ultimate productivity:
Ultimate opaque flood coats
Reduce ink costs while achieving higher opaque white laydown with GTT 2.0. The open channel geometry allows more opaque white ink to flow off the anilox onto the printing plate, while utilizing less ink throughout production. Learn more in this video.
Standardize Anilox Inventory
From GTT XL for high opacity white printing to GTT XS for superfine and high-definition process work, GTT 2.0 can replace your entire stockpile of conventional anilox rolls with a handful of GTT sizes, and significantly reduce the number of ink recipes required to achieve pantone colors.
Eliminate or reduce foaming
With GTT's open geometry, liquid turbulence within the anilox cells causing aeration is reduced significantly, reducing foaming and the defects caused. Read more in our foaming white paper.
Improve Transfer Quality
Print stronger solids with less mottling & pinholing, and achieve sharper and finer process work with tighter reverses and finer, cleaner plate screens.
Consistent Repeatability Over Roll Life
As an anilox wears down, micron by micron and over time, GTT 2.0 engravings exhibit much greater levels of print consistency and color density compared to conventional anilox engraving largely due to the 50% reduction in wall surface area.  Learn more in this video.
Easier Maintenance & Extended Roll Life
The innovative GTT 2.0 geometry allows ink and coating to flow both in and out of the open channel easier than traditional hex cell walls. Operators can clean more ink off of the anilox roll during daily wash ups and with less damage to the channel walls, extending roll life tremendously.
Greater Profitability
Printers and converters can reduce waste, maximize assets and address pain points with GTT anilox rolls and sleeves. Increased uptime, happy customers, and maximum profitability are just a few of the advantages of choosing GTT anilox engravings.
Optimizing Performance In:
Anilox Resources & Videos