Anilox Sleeve Technology Like No Other
The World's Most Advanced Anilox Sleeve
Apex anilox sleeves are engineered for ultimate performance and quality, without compromise. Engineered to be the world's best anilox sleeve, Apex sleeves are designed and manufactured to address and correct many of the common sleeve performance downfalls. With its ultra-smooth composite interior wall and super-reinforced sturdy construction, Apex anilox sleeves resist swelling, bouncing, and fraying, allowing for easier loading and unloading, extended roll life, and top performance on press. The internal compressible and damping layer constructed of industrial strength memory cushioning and the mechanically anchored and fastened stainless steel end caps are an integral part of sleeve performance and stability during production. With various liquid and corrosion resistance properties, Apex anilox sleeves boast extended life and durability. For the best anilox sleeve performance in the market, choose Apex International!
Request a Quote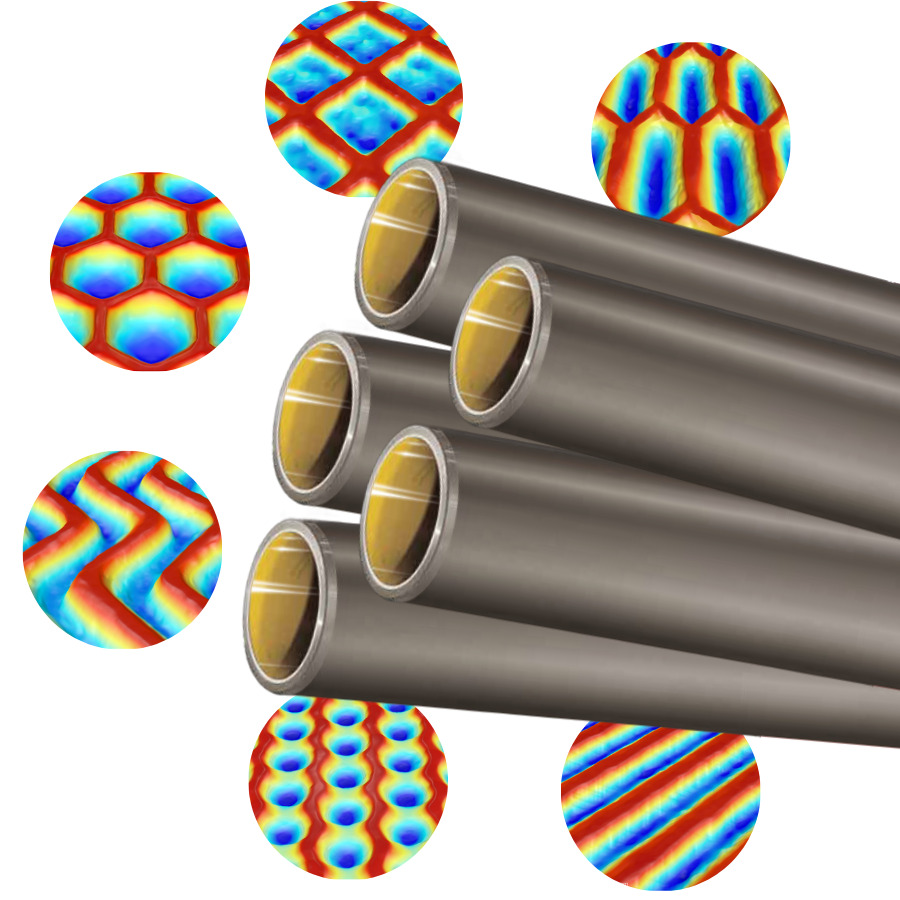 The Only Anilox Sleeve Designed & Built 100% By An Anilox Manufacturer
If you're not using Apex anilox sleeves, you might be surprised to learn that your sleeve was originally designed and manufactured as a plate or bridge sleeve — and only later re-purposed as an anilox sleeve. In other words, your sleeve really wasn't built for the task of an anilox.
Apex believes an anilox sleeve must be constructed as precisely and durably as an integral-journal roll, not a fragile throw-away. We built our next generation of anilox sleeves blueprinted from the very beginning to master the harsh rigors of the anilox station. Designed to be precise, stable, ergonomic, reworkable and overall reliable, you can trust your Apex sleeve is up for the job, run after run.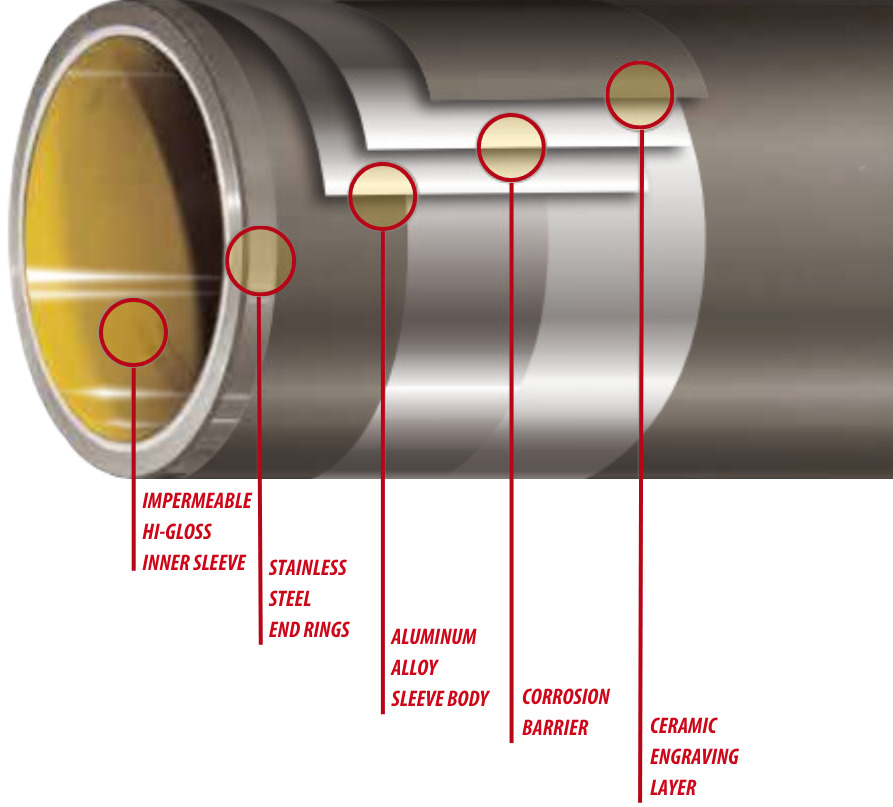 Apex Anilox Sleeve Specifications
MATERIAL
High-density, low-porosity Ceramic outer layer construction with anti-corrosion properties.
Ultra-smooth, reinforced, and sealed super composite interior makes it more reworkable than the competition's conventional anilox sleeves.
APPLICATIONS
Corrugated
Flexo & Wide Web
Label & Narrow Web
Coating & Offset
ADVANCED GEOMETRY
60° Hex
GTT
45°
Longcell
Channellox
TriHelical
60° Bottoms Up
45° Bottoms Up
Custom engravings available
Apex anilox sleeves are innovated to combat the top sleeve construction and performance issues to achieve ultimate productivity and profitability.
Avoid Sleeve Failure & Downtime
Decrease downtime for troubleshooting and keep the press running at speeds up to 600 meters (2,000 ft) per minute, with no bounce. Apex Sleeves are completely liquid resistant and will not delaminate, due to liquid penetrating the sealed construction and causing premature sleeve failure and downtime. Apex sleeves are corrosion proof with mechanically anchored and fastened stainless steel end caps that require no adhesive to prevent end caps dislodging.
Easier Maintenance & Cleaning
Apex sealed super composite sleeves are easier to clean due to the smooth surface, making removal of even dry ink quick and easy. The sleek internal construction is fully resistant to swelling and is less likely to fray. Therefore, loading and unloading from the mandrel becomes a breeze with its ultra-smooth interior walls, and internal industrial-strength memory cushioning.
Precision Engravings & Quality Control
Available in a wide range of geometries, Apex anilox sleeves utilize their multi-phase laser engraving process to achieve industry leading 0.015mm (0.0005") max T.I.R. and O.D.. All engravings maintain cell volume precision and uniformity and are verified through rigorous laser interferometric cell-volume verification during Apex's extensive quality control process. With all sleeves manufactured in house, there is no added middle man costs and inventory is readily available with stock inventory of the worlds top 10 premier OEMs.
Ergonomic & Reworkable Sleeves
Apex anilox sleeves are 20% lighter weight than traditional sleeves, making it easier for operators to handle and less prone to accidents. The non-porous inner surface allows a consistent air cushion between sleeve and mandrel for easy mounting and dismounting. With most sleeves having a lifecycle of 2-4 re-engravings, Apex long-life HD anilox sleeves surpass them all and proven to withstand up to 20 re-engravings! The superior reinforced composite construction makes Apex sleeves more reworkable, as well as corrosion proof. The mechanically anchored steel end caps are integral to preventing the end caps from dislodging.
Apex anilox sleeves are available in all Apex geometries, including:
Optimizing Performance in: