Perfectly constructed anilox rolls should mount and dismount without any issues.  They should slide and rotate easily on the mandrel.  However, if an anilox sleeve will not mount because the necessary air film cannot be established between the sleeve and the air mandrel, here are 10 tips to help you troubleshoot the issue:
Potential Issues with the Air Mandrel:
Check the air pressure measured at the air cylinder.  This should typically be between 6 and 8 bar (87-116 psi).
The air volume flow should never fall below 12 liters (0.42 cubic ft.) per second.
Make sure the compressed air system and cylinder surfaces are free of moisture, oils, lubricants, inks and solvents.
Check for blockages in the air outlet holes.  This should be routine as all air holes must be open in order to establish an air film between the anilox sleeve and air mandrel.
Make sure the air mandrel diameter is within the original STORK tolerance (see drawing below).
Check if the air mandrel diameter in front of the the first air holes is within the original STORK tolerance and not damages (see drawing below).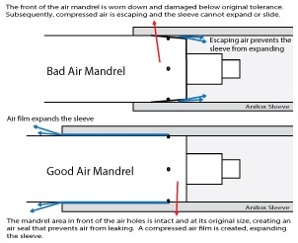 Potential Issues with the Anilox Sleeve:
Inspect the inner liner making sure it is clean and not damages as deep scratches can cause air pressure to fall.
Ensure that the sides are not damaged and that the inner liner is intact.
Check if the sleeve will mount more than a quarter of its total length without air pressure.  Doing so should not be possible.
While placing an anilox sleeve onto the mandrel, wait a few seconds after passing the first set of activated air holes to continue mounting.  This will the inner liner enough time to expand.
Apex International sleeve technology is engineered to be perfectly constructed.  The result is the industries most stable sleeve with no vibrating or bouncing, precise TIR values and a perfectly straight and round construction.  To learn more about our sleeve technology or any of our products, please download our brochure.